OBITUARY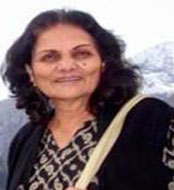 With profound grief and deep sorrow, we regret to inform the sad and untimely demise of Mrs Shashi Datta (72 yrs) w/o veteran Late Lt Col Surender Kumar Datta (11 GR) who left for her heavenly abode peacefully in her sleep on 28 May 2023.
On behalf of Lt Gen AK Singh, AVSM, YSM, SM, VSM, General Officer Commanding-in-Chief Southern Command, President Gorkha Brigade, Col 11 GR & Sikkim Scouts and all Ranks of the Regiment, we pray to Durga Mata to grant eternal peace to the departed soul and give strength and fortitude to the bereaved family to bear this irreparable loss.
Late Mrs Shashi Datta is survived by two sons Mr Ajay Datta, who works for Linkedin in Bangalore and Mr Abhishek Datta, who works for Fluor in Gurgaon.
Condolence msgs may be sent as follows :-
(a) Address:-
House No : 168 Amravati Enclave,
Sector 12, Panchkula (Haryana) - 134107
(b) Mob Nos : 9663378333 (Son Ajay)
(c) Email – (Son Ajay) aceajay@gmail.com